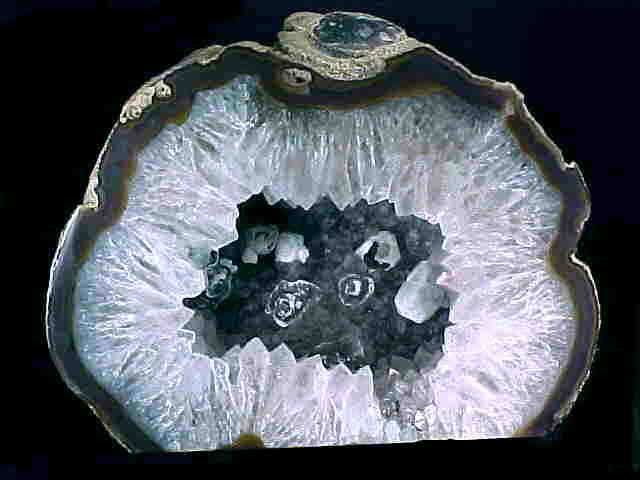 Quartz is the second most abundant mineral in the earth's crust. Pure quartz is colorless, but also occurs in many different colors, from clear to opaque A few examples of the many different kinds:
Purple quartz is called amethyst
Yellow quartz is called citrine
Black quartz is called onyx
Brown quartz is called smokey quartz
Agate
Tiger's Eye
Rose quartz
As quartz often occurs as crystals in nature, the ancients held it in high regard.
The well-known crystal ball of the fortune teller of old was made from clear quartz. Ancient Romans thought the clear crystals were pieces of fossilized ice. The word crystal comes form the Greek word for ice.
No doubt because of its abundance and crystalline structure, quartz was known as having special properties
in many cultures. Ancient Japanese thought that quartz was formed by the breath of a white dragon, and was a symbol of perfection. Indian culture believed quartz could detect food that had spoiled. Quartz played many roles in the rituals of Native Americans. It adorned the temples of the ancient Chinese. In the Middle Ages Christian relics were made from many different members of the quartz family, and like the ancient Greeks, they thought it was fossilized ice.
Rose quartz specifically has long been thought of as a love enhancer, and been highly prized for its mystical attributes. A stone that supposedly will give you improved self worth, and bring comfort to the broken hearted. It was even thought to help prevent wrinkles.
Quartz has also played a role in many scientific and technological advances. Crystals of quartz were used in the first radio transmitters and receivers. It has certain properties when an electrical current is passed through it and it is used in different kinds of meters and gauges. And quartz crystals played a major role in the development of the computer
Most of the members of the quartz family are used to make jewelry of many types, and are in enough abundance that very nice, inexpensive jewelry is available. As well as higher priced items. No matter the color or type preferred, there is quartz jewelry to fit every taste and budget
Author: Alan Beggerow
Alan Beggerow is also a free lance writer. Visit his writing services website, Ghostwriter, at http://www.ghostwriterboo.blogspot.com
Article Source: http://EzineArticles.com/?expert=Alan_Beggerow
Jewelry Blog  Some Extravagance
Gorgeous peacock blue freshwater pearls gather in a cluster above a large amethyst Swarovski crystal. The necklace and components are sterling silver and the finished length is 17 1/2 inches. Available in amethyst and other colors 
Long drop earrings consisting of a large dark amethyst stone, set off by a smaller light amethyst round bead, and mounted on silver plated, nickel free, earwires.
Long drop earrings made from blue lace agate, rose quartz and Swarovski crystal and mounted on sterling silver earwires (stamped 925).
Made from silver findings, rose quartz round beads, fuschia swarovski crystal bicones, pink-colored heart charm, silver toggle -. The little round beads look like they're white but they're truly truly a pastel pink rose quartz stone. 
Rose Quartz Puff Heart Crystal Carvings
Rose Quartz Puff Heart [Crystal Carvings] – Here you have luscious Rose Quartz puff hearts, each one carved and polished to a high degree. 1″ long by 1 1/4″ wide and 1/2″ deep.ROSE QUARTZ This stone of love inspires compassion and forgiveness.
Rose quartz and rock crystal are also well known and commonly used as gemstones in jewellery. Rock crystal is colorless and is the clear quartz that we often see carved and polished into gorgeous shapes such as skulls and crystal balls. … I particularly like large pear shape pieces of lemon, smoky or brown quartz for making modern pendants. It is affordable enough to use large pieces and can be set in gold or silver