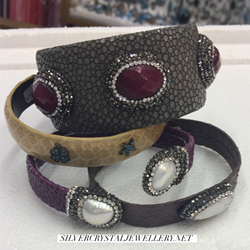 The allure of exotic and luxurious stingray skin cuff bangles cannot be denied.
They are especially attractive when mixed with various precious and semi-precious gemstones and crystals.
Rubies, agates, turquoises and pearls, framed in delicate shiny black and white crystals really set the tone.
These genuine leather handcrafted stingray bangles are a beautiful and glamorous addition to any evening wardrobe.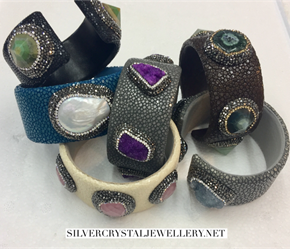 Highly polished stingray leather, also known as shagreen, can come in many colours and designs to suit everyone's taste
Available to 'try and buy' at our local store, Bushstores Jewellers located in the heart of Shepherds Bush Market, London UK.
Our shop, crammed full of silver and crystal jewellery and natural gemstones, rocks and crystals is known by many of our customers as a veritable 'Aladdin's cave'. Come and see for yourself.
Fabulous cuffs with gemstones … and we may even have some matching rings