Turquoise is one of the most popular of the semi-precious stones and never ceases to appeal to both young and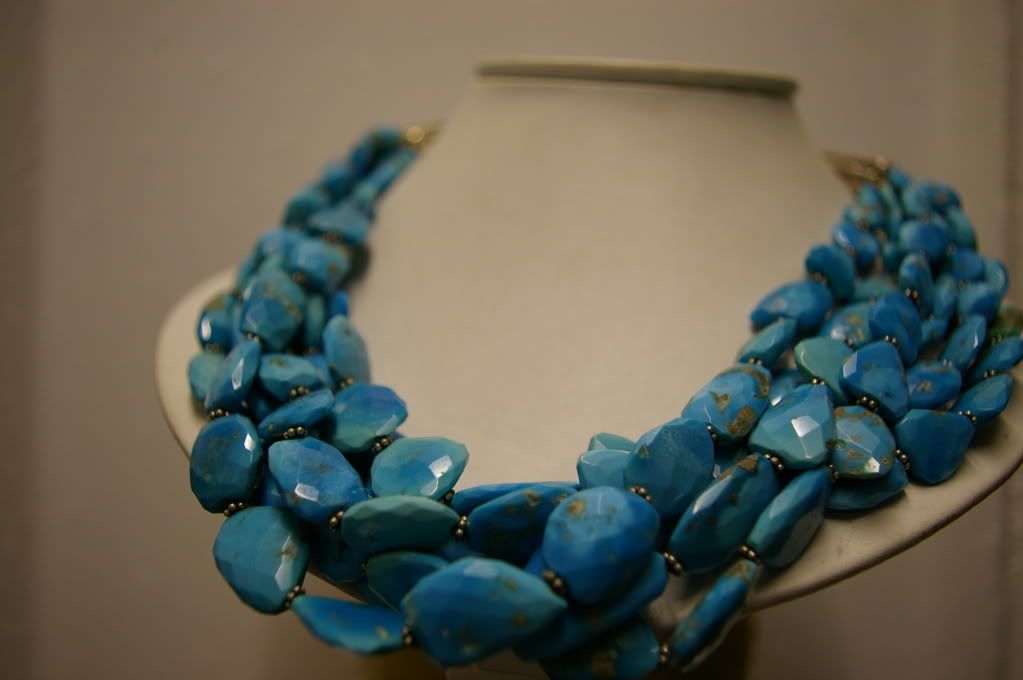 old.
Turquoise is a semi-soft rock, and for people who wear Turquoise Jewelry, the bright color combined with the soft comfortable texture  make it a real winner!
If you would like to own the beautiful blue turquoise and silver necklace in this picture there is only one piece available so hurry and click on the link before it is gone forever!
This beautiful stone varies in color from bright blue to a beautiful subtle gray-green.
It is often streaked with black streaks and sometimes gold or brown markings.
It is one of the birthstones for December and has been popular all over the world for its beautifully polished quality and its profound and beautiful color.
When you think of turquoise, you will often find your mind drifting to the American Southwest. Turquoise has long been an important part of the tribe of the nations of this region, which is evident in much Native American Jewelry and art. but some of the oldest greens come from high in the Himalayas and Egyptian, Persian and Indian turquoises are all sought after too.
When you pair up  turquoise and silver, you'll have a cool look perfectly poised between the lunar glow of silver and cool blue turquoise. With carnelian or coral turquoise shines almost like a fluorescent light, and you will see that these two strong colors complement each other very well.
Although turquoise is often seen in Native American jewelry, it was also recognized as a stone of great value in places as far away as Africa and Greece. Turquoise is still regarded as a lucky stone and often associated with protection from the 'evil eye' of jealousy and many ancient cultures have attributed things like wealth, opportunity and safety at sea with it. Turquoise has been used both as the major element in a piece of jewelry and as a piece of accent as a beautiful blue stone that is instantly recognizable.
Remember that real turquoise in its natural state is very rare and very expensive. Much turquoise has been dyed or treated, but you will see that it does not reduce the brightness or appeal. There are a lot of hand-beaten turquoise pieces in the American Southwest, but do not forget to watch the Persian, Chinese and African and jewelry, which has a long tradition when it comes to working with this stone.
Some people have expressed a concern that turquoise is such a vivid color that it will be difficult to wear with other things, but nothing could be further from the truth! When it comes to turquoise, you will often find that not only is this the only piece of jewelry that you wear to the end, but also that's all you need.
For a less extravagant look, consider making a ring which is fixed with small pieces of turquoise or an independent cross of turquoise to decorate it. If you can find a way to integrate this beautiful stone into your wardrobe, you can be sure that you will want to look around and see what pieces are out there.
Turquoise jewelry is a beautiful thing; make sure you add a few pieces to your wardrobe today!
By: Double Dee Deals
Article Directory: http://www.articledashboard.com
Fun Facts About Silver And Silver Jewelry
During ancient Egypt and the medieval period in Europe, silver was considered more valuable than gold. Though there are songs about the silvery moon, there is very little silver, if any, in the moon's soil. 
The Lore And Beauty Of Turquoise
Well known for it's uses in Native American jewelry and carvings, it has been used for centuries and dates back to ancient Egypt as evidenced by turquoise jewelry found in the ancient Egyptian tombs. 
Why Turquoise Jewelry is so Special?
Cavaliers, sea captains and pilots to wear turquoise good luck and protection. It is also seen as a symbol of friendship. The cheerful color is intended to lighten the spir fef its of the user.