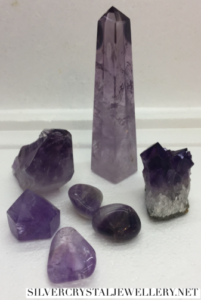 Purple Amethyst Crystal
Calming, stress-releasing, spiritual, purple amethyst crystal is a powerful protector and healer.
It supports changing negative energies such as anger, fear and anxiety into love, wisdom and peace.
Amethyst is a beautifully serene crystal which supports meditation, the practice of mindfulness and the releasing of any blockages which may otherwise disconnect us from our higher selves.
Apparently it is also good for resolving addictions, over-indulgent behaviours and an overactive mind, helping to bring us back to centre and good balance.
This beautiful crystal helps to support a robust immune system for good health and well-being.
Amethyst also helps to relieve pain, whether physical, mental or emotional.
Great for insomnia, headaches, lung disease, intestinal problems and for reducing the swelling effects of physical injuries